Rigatoni pasta smothered in a creamy avocado sauce with pulled mock chicken.
Yes I know, another pasta recipe(!!!), but who doesn't love pasta?! AND who doesn't love avocado?
This is a super quick and simple recipe you can whip up in just 20 minutes! So you can enjoy a lovely dinner even if you're short on time, or feeling lazy after a day at work.
My new avocado sauce is super creamy and packed with flavour. Somehow when avocado is cooked, it gains a lovely smokey flavour – real delicious.
Even if you're not vegan, this sauce is a great, healthy substitute for dairy based pasta sauces, and it's just as creamy! My non-vegan boyfriend much preferred this to cream-based pasta he's had before, and said it was far less sickly.
Chicken and avocado is a classic combo and as I had some Linda McCartney pulled chicken in my freezer, I thought why not add some in for some extra texture and flavour. I am a really big fan of this stuff as not only does it have a real meaty texture, it also has lots of flavour which real chicken doesn't have!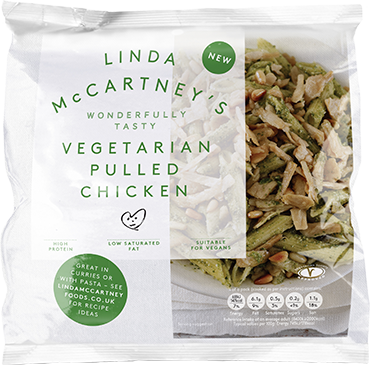 Rigatoni is probably my favourite pasta to have as there's a lot of surface area to soak up all the creamy sauce *love-heart eye emoji* but you can of course use any shape you have available.
Give it a go and let me know how you get on!! 🙂
---
Prep time: 5 minutes
Cooking time: 15 minutes
Total time: 20 minutes
Serves: 2
Ingredients
200g pasta
2 large avocados
1 cup plant milk
1 tbsp nutritional yeast
1/2 tsp salt
1/2 tsp pepper
3/4 tsp garlic granules
1/2 tsp onion granules
1 tbsp olive oil
1 cup shredded vegan chicken
Instructions
Put your pasta on to boil over a low-medium heat – normally 12 minutes but check the packet for timings as these can vary.
Blend your avocados, plant milk, nutritional yeast, salt, pepper, garlic granules and onion granules until smooth.
Fry your shredded chicken in olive oil for 5 minutes until it starts to brown.
Add your drained pasta and avocado sauce and mix together over a medium heat for 3 minutes until hot.
Season with extra salt and/or pepper to your taste, and drizzle some extra olive oil over the top if you with.
Serve on its own or with some olives and garlic bread, and finally – ENJOY!!!