Pulled 'chicken' & pasta smothered in homemade basil pesto!
Another super quick and easy recipe taking only 20 minutes to make.
This was inspired by the chicken pesto pasta that I used to get from Pizza Express. It's the only pasta I ever used to order from there before I went vegan and it was delicious – I still remember how it tastes years later!
The pulled 'chicken' and pesto compliment each other perfectly, and the tomatoes add a bit of sweetness and tang!
I used homemade basil pesto in my recipe as I often struggle to find a vegan green pesto, but you can of course use a jarred one to make this recipe even quicker 🙂 click here for my pesto recipe.
This is best eaten fresh, but it also delicious cold! I was going to Wraysbury Lake to do my Padi Open Water course over the weekend and wanted to prepare for the worse as I didn't think there wouldn't be any vegan options for lunch at the dive site. So I made this as a packed lunch to bring with me.
I used Linda McCartney's Pulled Chicken which is absolutely delicious, low in saturated fat and high in protein! It's the perfect substitute!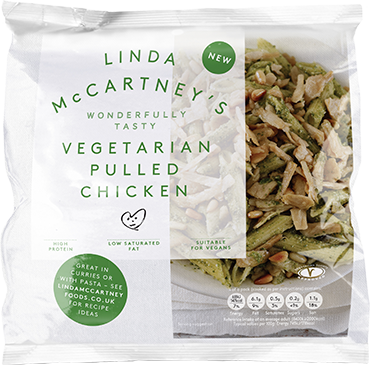 Give it a go and let me know how you get on 🙂
---
Prep time: 5 minutes
Cooking time: 15 minutes
Total time: 20 minutes
Serves: 2
Ingredients
200g pasta
4 cloves garlic
1/2 onion
1 cup pulled 'chicken'
4 tbsp homemade basil pesto (click here for the recipe!)
1 cup cherry tomatoes
1 tbsp olive oil
salt, to taste
pepper, to taste
vegan parmesan, to garnish
fresh basil, to garnish
Instructions
Put your pasta on to boil over a low-medium heat. Check the packet for the timings, as these can vary.
Fry the onion, garlic and mock chicken in olive oil over a medium heat until the garlic and chicken has browned slightly. Add the tomatoes and fry until they soften.
Once the spaghetti is cooked, drain the water and pop it in the pan with the garlic, chicken and tomatoes. Add your pesto and stir it all together. Add salt and pepper to taste.
Top it off with some fresh basil, and vegan parmesan if you wish.
ENJOY!!